Garage Door Opener Compatibility
The vast majority of residential garage door openers are compatible with GarageMate. GarageMate works by "simulating" a standard wall switch using an electrically isolated photo-relay/switch. Your existing wall switch and traditional remotes will work just as before. It only take a minute or two to connect the wires of the GarageMate receiver to your garage.

The top portion of the following image shows common wall switches and if your wall switch is similar it is a good indication of compatibility.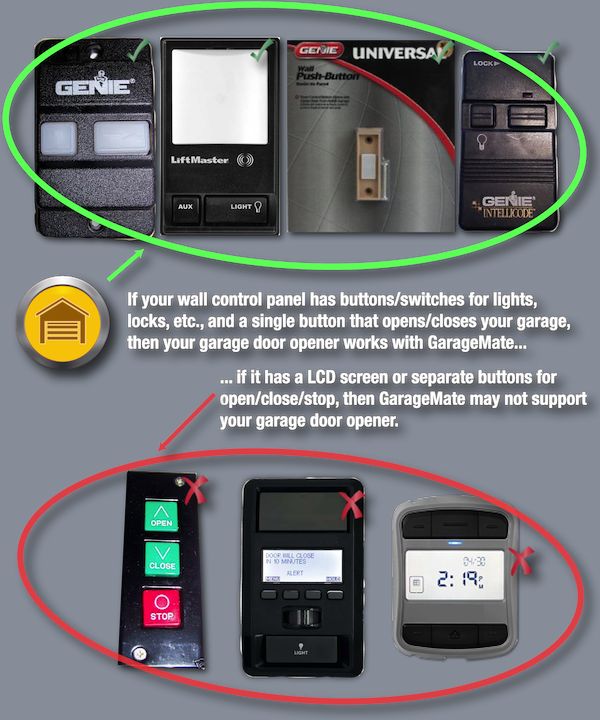 The bottom portion of the previous image shows several switches that may indicate your garage door opener is not compatible with GarageMate. For example, a commercial garage door opener (e.g., used by firehouses and airplane hangers), has a separate button for open and close, so it is not compatible. Also if your wall switch is a shows the temperature and time, then GarageMate might still work. But it will cause the clock to reset each time GarageMate is used. Some customers are OK with this since the clock wasn"t a needed feature.

Liftmasters and Chamberlains manufactured in after 2011 no longer support a standard wall switch and therefore are not compatible with GarageMate. The date of manufacture is clearly marked on the garage door opener. See the Liftmaster and Chamberlain pages below for more information.

Genies built in 2012 and 2013 may not work but those built 2014 in later (and before 2012) are compatible. You will know the year of manufacture by the first two numbers of the serial number (e.g., 12 or 13). We are grateful to Genie for restoring compatibility and we are sorry that we don't support the 2012 or 2013 model years.

If you have any doubts whether your garage door opener is compatible with GarageMate, perform the following test. Take the two wires that go to your wall switch and momentarily touch/short them together. If that causes your garage door to open and close, then your garage door opener supports a standard wall switch and is therefore compatible with GarageMate.
Partial list of common garage door openers.
Below is a partial list of the most common garage door brands in the USA, Canada, EU, and Australia. If you don't see your make model, keep in mind GarageMate works as a remote control for the vast majority of garage door openers. You can always e-mail us with questions: info@bluemate.com.

AccessMaster

Allister

Allstar

Ambass-a-dor

Anaheim Door

AssureLink

BuildMark

Chamberlain

C.H.I. Overhead Doors

Clopay

Craftsman

Do-It HWI

Door Link Manufacturing

Forsee

Frantz

Garage Access

Guardian

General Doors

Genie

Go Merlin

Hormann

Legacy

Lift-A-Way

LiftMaster

Linear

Lynx

MacLift

Marantec

Master Mechanic

Merlin

Mid-America Door

Overhead Door

Raynor

SAFE-WAY Garage Doors

Sears

Sommer

Stanley

True Value

Wayne-Dalton

Windsor Republic Doors
Questions? e-mail info@bluemate.com